8 Things You Wish You'd Known as a Pole Beginner
Pole dancing is more than just a passing trend. It's a cultural phenomenon that produces real fitness results. Thousands of women (and men!) are starting to learn the wonders of pole dancing for themselves, whether they hope to increase their dance skills or improve their fitness level.
As anyone who's tried pole dancing before, it's not an easy sport to get into. It takes a lot of skill, patience, and strength to see progress. That being said, trying pole doesn't have to be intimidating. As a newbie, you're going to fall and make mistakes but that will only make you a stronger dancer. Here are 8 things you wish you'd known as a pole beginner.
Develop Your Dance Skills
Many pole beginners don't have any background in dance. Not having ballet or contemporary dance skills is perfectly acceptable, and you can learn as you go. However, it will be very helpful for you to learn these dance skills and choreography early in your pole career to get the hang of these movements.
Things like toe point, careful movement, and attention to detail might not come naturally at first. It could even be helpful to take some beginner ballet classes to get a feel for some of the basic steps and movements.
Focus on Yourself
It's easy to feel intimidated watching the more experienced pole dancers in the beginning. They're flying every which way and look so confident. Remember that everyone had to start somewhere.
Some dancers bring more experience to the table, so things might come easier to them. That's completely okay, and it doesn't mean you won't develop your own successful pole journey. Focus on yourself to avoid the comparison game.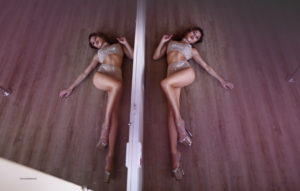 Train Your Grip
Hand grip is one of the hardest parts of pole dance, especially in the beginning. It's tempting to use Dry Hands or Itac if you're just getting started, but these will get in the way of your learning. Instead, train your physical grip on your own first. This will prevent injuries later on so you'll be glad you did this extra practice. Soon, your grip will be ready for anything.
Dress for Comfort
The right pole clothing combines both comfort and style. You want to look great while swinging around the pole, but you also need the right coverage and support. Nobody wants a wardrobe malfunction while hanging upside down. Just like when the varsity team needs matching jackets, pole dancer need the right pole gear.
Look for brands designed for the sport of pole. Don't feel like you need to pay an arm and a leg for fancy outfits when all you really need is a sports bra and leggings. Just ensure you're able to move freely and safely with no clothing that will get in the way.
Warm Up and Cool Down
Like any athlete, you need to be kind to your muscles. It's easy to cause an injury if you aren't careful with warming up and cooling down during every practice session. Warming up helps prepare your muscles for high impact training, and it will improve your performance. On the other hand, cooling down will reduce muscle soreness. Try these dance warm ups to get started.
Ask for Help
Pole dancing isn't just an individual sport, it's a team sport. Your instructor and your classmates are all in this together. Don't be afraid to ask for help if you need it. If there's something you're struggling with, ask about it. You're likely not the only one struggling, and you might help someone else out with your question. Your instructors and peers want to see you succeed.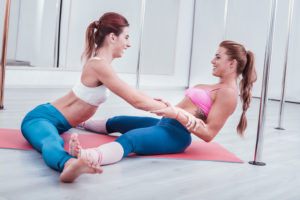 7. You'll Get Burns and Bruises
Something a lot of pole newbies don't know is how bad burns and bruises will get. You'll get friction burns from rubbing against the pole at lightning fast speeds, and you'll get bruises from hitting the pole whether on accident or on purpose.
It's all just a part of the sport, and it'll bring your group closer together. Yes, they're annoying, but they're also easy to treat. You'll quickly learn some moves are more prone to burns and bruises than others, but you'll learn to love your battle scars.
You'll Be Strong and Flexible
Finally, you might not realize in the beginning just how strong and flexible you'll become. Pole is a serious workout. After just a few lessons, you'll feel a world of a difference. Soon, you'll be able to handle push-ups, pull-ups, and crazy upside-down movements all on your own.
Since you'll be stretching your muscles every which way, you'll also be bending and twisting yourself more than you ever had before. Your next flexibility will help you in all future sports and exercise.
Welcome to Pole Dancing
Welcome to one of the best sports communities out there. As pole dancers, we know just how exciting and fun this sport can be. When you're just getting started, it's normal to feel nervous and maybe even intimidated.
However, don't let those feelings slow you down. Everyone starts somewhere, and you have a fun journey ahead of you. It's time to get moving.
Author of the article Ashley Lipman