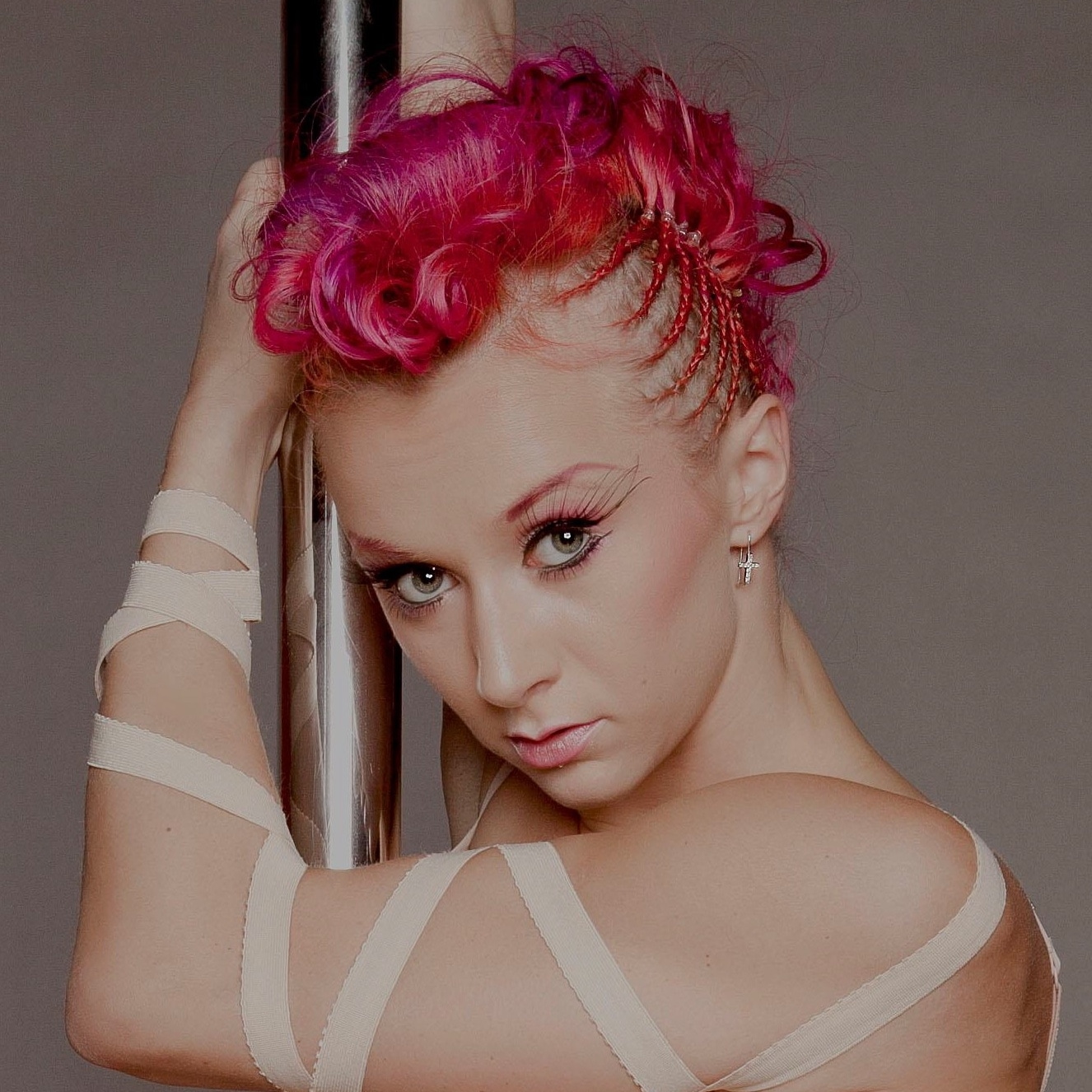 Lessons by Pink Puma
OpenDance Academy is delighted to present amazing lessons by Pink Puma!
Pink Puma ONLINE lessons featured at our POLE DANCE PLATINUM COURSE
Profile
Pink Puma inhabits in a brutal environment of sport and show business industry for over than 20 years. Since she was a child her qualities like hard work, patience and stamina helped her move forward and succeed.
At the age of 17 this girl gained a title of Master of Sports in International Level. By this time her work experience included many well-known entertainment corporations and sports organisations. Her performance background consists of enormous quantity of sports, dance, martial arts and circus disciplines.
In August 2011 this young artist decided to integrate her performance and competitive skills, dedicating her craft to Pole Sport, and to pursue new heights under the name of Pink Puma. Her main goal is to bring into Pole Sport even more artistry, athleticism, grace and to promote it as an Olympic Sport.
Experience:
Pole Dance since August 2011
10 years of rhythmic gymnastics training and competitions
11 years of professional dancing
12 years of performance in cirque style shows
Additional skills:
Aerial Gymnastics
Hula-hoops and manipulation
Contortion and hand balance
Acrobatics
Contemporary dance
Career highlights:
Aerial silks artist and dancer in Zumanity Cirque du Soleil (Las Vegas; 2011-2012)
Top 40 acts on America's Got Talent, Season 5
Pole dance artist at Le Noir the Dark Side of Cirque (Japan, China, USA; 2013-2014)
Pole dance and hula-hoops artist in Cirque-Style Extravaganza Fata Morgana (USA; 2012)
Hula-hoops artist in Madame Zingara Love Magic Tour show (South Africa, 2010)
Aerial silks, hula-hoops artist, dancer in Salto Natale shows Elegance & Nostalgie (2008-2010; Switzerland)
Achievements
US Pole Sports Champion (Senior Women Elite 2015, Mixed Doubles 2016)
Winner of Miss Pole Dance America 2015 (Nashville, TN)
Ultimate Champion, Pole Fit & Pole Art Champion at Pole Stars Championship (Kuala Lumpur; 2014)
Runner-Up and Best Entertainer award winner on World Pole Dance Championship(London; 2014)
Pole Fit Champion and 3rd Place Winner of International Pole Championship (Singapore; 2013)
3rd Places on World Pole Sport Championships (London; 2012, 2013)
American Pole Fitness Champion (New York, NY; 2012)
Winner of Pole2Pole Cup USA Champion of Champions category (Huntington Beach; 2012)
Winner of Russian Pole Dance and Fitness Competitions (Moscow; 2012)
Winner and Prize Holder on 20th and 22nd All-Russian Festival of Modern Choreography Black cat (Ryazan; 2007, 2009)
Winner of First All-American Dance Audition for Le Crazy Horse de Paris (Las Vegas, NV; 2008)
Master of Sports in International Class (since 2002)
Triple Champion of Russia in Rhythmic Gymnastics (2002)
Video links:
Pole Dance Scent of a Woman http://www.youtube.com/watch?v=OvRdRxIg4eA
Pole Dance Teaser http://www.youtube.com/watch?v=qqyJdTZDyjE
Pole Dance Welcome to the Circus http://www.youtube.com/watch?v=dQ6anXiv_b4