WELCOME TO OPENDANCE ACADEMY!
Ever want to learn pole-dancing at your own pace?
Well, with OpenDance Academy, you can!
We are proud to present a brand new array of concise, simple pole-dancing videos that are designed to teach each of you essential skills and techniques that are sure to turn you into an absolute goddess on the pole!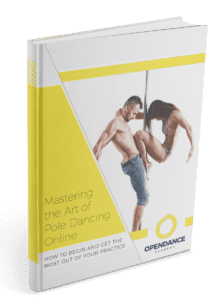 OUR LESSONS:
• Easy to Understand. Our videos are simple, and remember, you can always rewind in case you don't understand something.
• Carefully Made. Each of our videos makes sure all the relevant material is covered, is designed to suit learners of all stages, and proceeds at a steady, methodical pace so you always get the highest quality lesson, every single time.
• Great for Learners of Every Degree. Whether you're a seasoned pole dancer looking for the hottest new trends or techniques, or are new to the art and need to learn the basics, we've got the material you need to succeed. As mentioned before, we always strive to provide easy-to-understand lessons for everyone, and we do this to help you all become the best pole-dancer possible!
• We genuinely want to make you shine, and we promise that your techniques will improve and that you'll be the pole-dancer you always dreamed of. You'll climb your way up towards success, and we'll help you make that happen!
So if you wish to unlock your potential, please browse through our selection and take your first step towards shining in your own, unique way!
Cradle with forearms – by Kira Noire | Beginner
Beautiful waves with shoulders on the pole. Easy and gracious move to start your Pole Dancing.
Do Si Do 0 by Phoenix Kazree | Intermediate
Do Si Do is a basic dance step in various historical dances. In this case, Phoenix explains an entree to the Superman, and from there, the same transition on another side and again and again.
Backward Somersault – by Evgeny Greshilov | Advanced
Backward somersault with the Pole. A movement (as in gymnastics) in which a person turns backward in a complete revolution in the air bringing the feet over the head. Detail explanation how to get it. Better to do it with supporter and crash mats.
Back Aerial Split – by Olga Trifonova | Expert
Impressive signature trick of Olga, a back aerial split on the pole.
Prerequisites: you need to be a master of the Chinese Split and have back and leg flexibility.
Testimonials

Video Testimonial from Pole Expo 2017
What our customers say about OpenDance Academy!

Vollkorn
Love it!
Finally there are also lesson where you learn how to move your hands, arms and head gracefully. If you have no dance background like me, you know the struggle. You can find a lot of videos of tricks out there and they are cool, but I was missing dance moves and lessons on how to make it look graceful and pretty. Specially love Elena's videos. Would totally buy it again. 5 Stars

Jessica
OpenDance Academy is the best of all as I can learn pole dance just by sitting in the house. I'm using Platinum Course and the classes are just so much fun... The teachers, especially - Marion Crampe is so professional and helpful, always there to help me in correcting my moves, face gestures and everything. I am not just feeling that I can dance very well, but the best pole dance online classes made me fitter, healthier and better than earlier. Highly Recommended!

Nunitooo Al Maskary
I purchased advanced to expert course in Nov and learned a lot , I loved different combos and moves . Definitely didn't nail all moves but I'm still learning . Today I decided I wanted to have platinum access . I'm amazed with all tricks that I always wanted to learn . My 1st comment is : I feel beginner section is not really for beginner students ! There are moves where it's perfect for beginners ; but there are moves where it can't be under this section ! I feel it would be more of an intermediate level 1 or level 2. It would be nice if beginner section is lighter . My 2nd comment is to be able to mark favorite moves for training . I have a lot of favorite tricks and I keep forgetting which is which . 🙂 Last comment : if it's possible to chat or put question when we are stuck in move & be able to get advice from the instructor . Thanks a lot Nusa from Oman

Jenny Liebert
 I don't think the beginner course is actually suitable for total beginners, but for any intermediate up to expert this is the best website so far. Very good value for money, clear explanations from top Pole Dancers, very cool tricks, nothing basic, a good way to revisit moves and styles, and stimulates new ideas 🙂 Thank you

Mackenzie Hanks
What an amazing Academy
Best money i've ever spent on pole training, thank you to all of the awesome instructors!

Mary
Thanks
The Platinum Course of OpenDance Academy is something worth to have. I wanted to be a professional pole dancer and really this is the course which has supported me a lot without wasting my time and efforts. By checking so amazing and easy to understand videos I have learned everything and now I'm very much confident to perform in any stage without any fear. Thanks so much!