Men Only Pole Dancing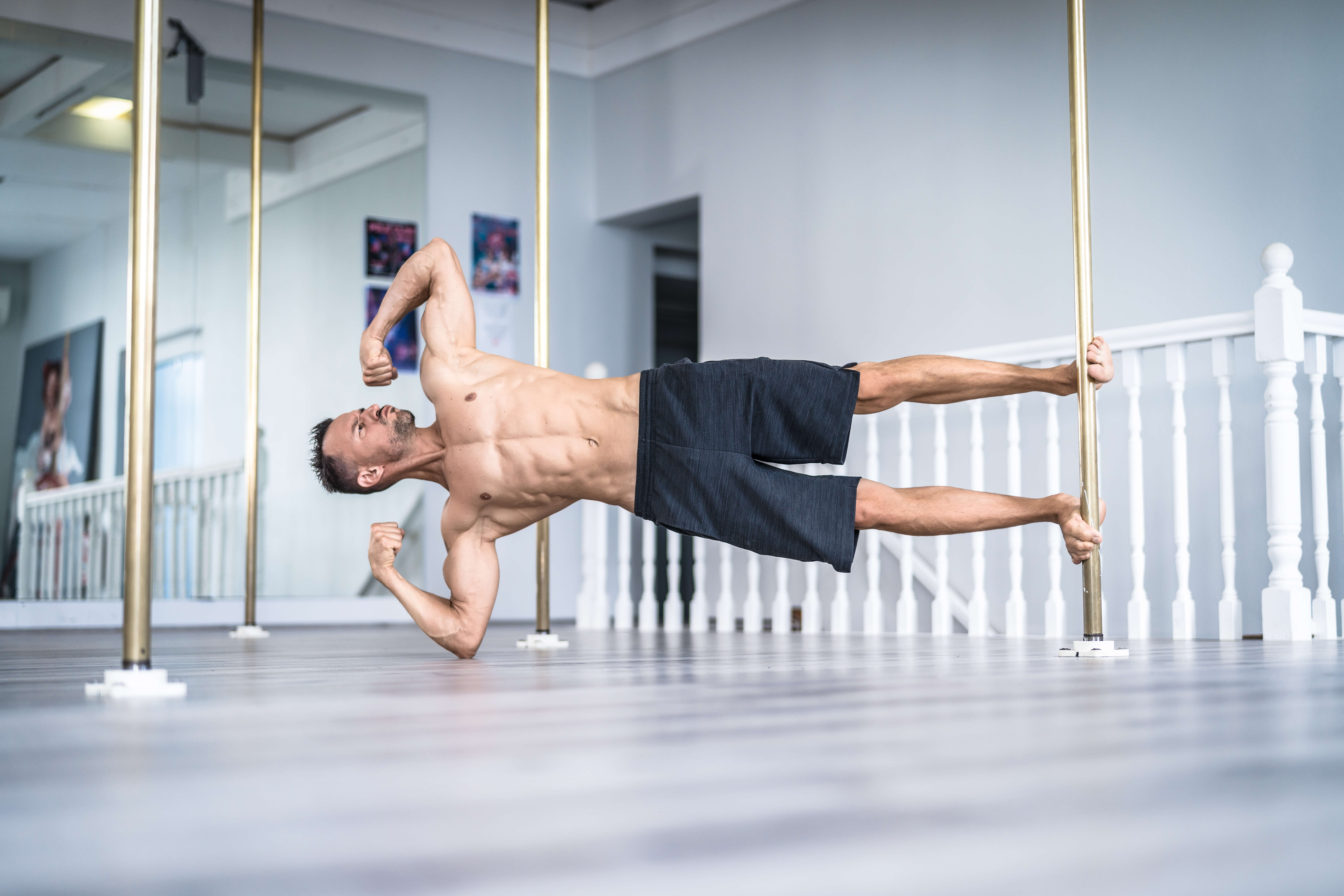 OpenDance Academy is excited to introduce our Men-Only Pole Dancing Class!
And we know how long you've been waiting for this one because male pole dancers are on the rise, and you can be the next to join the trend!
This men's only class was created by powerful male athletes dedicated to assisting YOU in becoming an even more powerful pole dancer. Gain your inspiration from diverse style and techniques. You'll learn from the very best male performers around the world. Our instructors have years and years of masterclass teaching experience and know how to show each move and combo in the way that you will learn it in the fastest and safest way possible.
Featuring Evgeny Greshilov, Dmirty Politov, Slava Ruza, Kenneth Kao, and more, this class will get you on the pole and let you spin those amazing combos like a pro!
Pole dancing is a fantastic way to tone your muscles and build that six pack you've always dreamed of. A little secret – pole dance is a never boring exercise and gives progress much faster than weights in gym.
Check out these learning outcomes that'll up your athleticism in a fun and unique way:
1.) Stamina and balance
2.) Master amazing combos
3.) Learn anytime you want!
4.) Take your fitness to a whole new level
5.) Improve your movements
6.) Strengthen your muscles
7.) Learn signature trick from male pole dance champions
8.) Fun and empowering freedom of self-expression
Lessons
То SORT LESSONS select:
By Instructor:
evgeny greshilov, vladimir karachunov, slava ruza, kenneth kao, dmitry fedotov, timber brown, davide lacagnina, magnus labbe
OR
By Genre:
flexibility, strength, static pole, spinning pole, drop, climb, acrobatics, spins, transition, handspring, handstand, floor work, choreography, deadlift, combo, elbow, regrip, extreme, twisted grip, invert, flip, dynamic, choreo

Evgeny Greshilov

This world-famous athlete has changed perception of male pole dancing. He is a legend!

Lesson 1.1

Aerial Split – by Evgeny Greshilov

Locked

Lesson 1.2

Aerial Transition – by Evgeny Greshilov

Locked

Lesson 1.3

Back Flip From Shoulder Mount – by Evgeny Greshilov

Locked

Lesson 1.4

Backward Somersault – by Evgeny Greshilov

Locked

Lesson 1.5

Basic Skyline On The Floor – by Evgeny Greshilov

Locked

Lesson 1.6

Deadlift To One Arm Handstand – by Evgeny Greshilov

Locked

Lesson 1.7

Double Dead Lift – by Evgeny Greshilov

Locked

Lesson 1.8

Drop From Shoulder Mount Split – by Evgeny Greshilov

Locked

Lesson 1.9

Elbow Grip Full Moon – by Evgeny Greshilov

Locked

Lesson 1.10

Entree To Shoulder Mount Split – by Evgeny Greshilov

Locked

Lesson 1.11

From The Floor To The Elbow – by Evgeny Greshilov

Locked

Lesson 1.12

Front Flip To Shoulder Mount – by Evgeny Greshilov

Locked

Lesson 1.13

Front Somersault – by Evgeny Greshilov

Locked

Lesson 1.14

Grand Jete Spin – by Evgeny Greshilov

Locked

Lesson 1.15

Inverted T- by Evgeny Greshilov

Locked

Lesson 1.16

Jump To Sit – by Evgeny Greshilov

Locked

Lesson 1.17

Jump To Under Arm – by Evgeny Greshilov

Locked

Lesson 1.18

Low Angle Cupid – by Evgeny Greshilov

Locked

Lesson 1.19

Male Titanic – by Evgeny Greshilov

Locked

Lesson 1.20

No Handed Sailboat – by Evgeny Greshilov

Locked

Lesson 1.21

One Arm HandStand – by Evgeny Greshilov

Locked

Lesson 1.22

One Elbow Stand – by Evgeny Greshilov

Locked

Lesson 1.23

Screw In Regular Grip – by Evgeny Greshilov

Locked

Lesson 1.24

Screw In Twisted Grip – by Evgeny Greshilov

Locked

Lesson 1.25

Shoulder Mount To Handspring – by Evgeny Greshilov

Locked

Lesson 1.26

Slow Front Walk Over – by Evgeny Greshilov

Locked

Lesson 1.27

Table Top Variation – by Evgeny Greshilov

Locked

Lesson 1.28

The Fonji – by Evgeny Greshilov

Locked

Lesson 1.29

The Roundabout – by Evgeny Greshilov

Locked

Lesson 1.30

The Sailboat – by Evgeny Greshilov

Locked

Lesson 1.31

The Thinker – by Evgeny Greshilov

Locked

Lesson 1.32

Thinker Variation – by Evgeny Greshilov

Locked

Dimitry Politov

Unique pole dancing style - impossible to beat, performance in forget-me-not coloured pants!

Lesson 2.1

Advanced Fonji – by Dimitry Politov

Locked

Lesson 2.2

Baby Split – by Dimitry Politov

Locked

Lesson 2.3

Back Over – by Dimitry Politov

Locked

Lesson 2.4

Basics Of Full Moon – by Dimitry Politov

Locked

Lesson 2.5

Cupid Climb – by Dimitry Politov

Locked

Lesson 2.6

Cupid Go Down To Cupid – by Dimitry Politov

Locked

Lesson 2.7

Cupid Jump In – by Dimitry Politov

Locked

Lesson 2.8

Dismount Kick – by Dimitry Politov

Locked

Lesson 2.9

Elbow Roll – by Dimitry Politov

Locked

Lesson 2.10

Hidden Hand Skyline – by Dimitry Politov

Locked

Lesson 2.11

One Handed Aerial Cartwheel – by Dimitry Politov

Locked

Lesson 2.12

Pole Screw – by Dimitry Politov

Locked

Lesson 2.13

Red Pants Split – by Dimitry Politov

Locked

Lesson 2.14

The Cupid – by Dimitry Politov

Locked

Lesson 2.15

Cupid Jump In – by Dimitry Politov

Locked

Lesson 2.16

Tick-Tack Flip – by Dimitry Politov

Locked

Lesson 2.17

Tree Split – by Dimitry Politov

Locked

Kenneth Kao

Ninja on the Pole - man of the most diverse set of skills!

Lesson 3.1

Advanced Orbitor – by Kenneth Kao

Locked

Lesson 3.2

Casting – by Kenneth Kao

Locked

Lesson 3.3

Increase Casting – by Kenneth Kao

Locked

Lesson 3.4

Orbitor – by Kenneth Kao

Locked

Lesson 3.5

Pole to Pole Jump. All together – by Kenneth Kao

Locked

Lesson 3.6

Pole to Pole Jump. How to Catch – by Kenneth Kao

Locked

Lesson 3.7

Pole to Pole Jump. The Beginning – by Kenneth Kao

Locked

Lesson 3.8

Reverse Fan Kick – by Kenneth Kao

Locked

Lesson 3.9

Reverse Fan Kick. Variation – by Kenneth Kao

Locked

Lesson 3.10

Shoulder Element – by Kenneth Kao

Locked

Slava Ruza

Contemporary classic on the pole - no one can do it better than him!

Lesson 4.1

A Beautiful Spin – by Slava Ruza

Locked

Lesson 4.2

A Dynamic Spin – by Slava Ruza

Locked

Lesson 4.3

Aerial Phoenix – by Slava Ruza

Locked

Lesson 4.4

Capacity Of The Cupid – by Slava Ruza

Locked

Lesson 4.5

Combo On The Spinning Pole – by Slava Ruza

Locked

Lesson 4.6

Easy Original Spin – by Slava Ruza

Locked

Lesson 4.7

Flow On The Static Pole – by Slava Ruza

Locked

Lesson 4.8

Low Spin Into Elbow Stand – by Slava Ruza

Locked

Lesson 4.9

Low Spin Into Inverted Straddle – by Slava Ruza

Locked

Lesson 4.10

One Leg Hug Spin – by Slava Ruza

Locked

Lesson 4.11

Original Grip Spin – by Slava Ruza

Locked

Lesson 4.12

Power Of Armpit Grip – by Slava Ruza

Locked

Lesson 4.13

Praying Spin – by Slava Ruza

Locked

Lesson 4.14

Regrip Dynamic Spin Into Forearm Grip – by Slava Ruza

Locked

Lesson 4.15

Spinning Flow On The Static Pole – by Slava Ruza

Locked

Lesson 4.16

Very Dynamic Spin – by Slava Ruza

Locked

Magnus Labbe

Lesson 5.1

A Little Flow Into A Handstand – by Magnus Labbe

Locked

Lesson 5.2

A Little Static Rotation by Magnus Labbe

Locked

Lesson 5.3

Butterfly Jump Into A Knee Hook by Magnus Labbe

Locked

Lesson 5.4

Elite Split by Magnus Labbe

Locked

Lesson 5.5

From The Sit To A Handspring by Magnus Labbe

Locked

Lesson 5.6

From The Sit To A Handspring by Magnus Labbe

Locked

Lesson 5.7

Handstand Transition Into a Sit by Magnus Labbe

Locked

Lesson 5.8

Jump Flow With The Pole by Magnus Labbe

Locked

Lesson 5.9

Low Flow And Floorwork by Magnus Labbe

Locked

Lesson 5.10

Shoulder Stand Transition On The Floor by Magnus Labbe

Locked

Lesson 5.11

Side Climb Into A Sit by Magnus Labbe

Locked

Lesson 5.12

Static Rotation Into A Sit On The Pole by Magnus Labbe

Locked

Dmitry Fedotov

Lesson 6.1

Cartwheel in Handspring Position – by Dmitry Fedotov

Locked

Lesson 6.2

Dead Way – by Dmitry Fedotov

Locked

Lesson 6.3

Double Fly By – by Dmitry Fedotov

Locked

Lesson 6.4

Drop from Handspring to Elbow Plank – by Dmitry Fedotov

Locked

Lesson 6.5

Fly By – by Dmitry Fedotov

Locked

Lesson 6.6

Jump from Shoulder Mount to Handstand – by Dmitry Fedotov

Locked

Lesson 6.7

Jump to Shoulder Mount – by Dmitry Fedotov

Locked

Lesson 6.8

Switch from Elbow Plank to Handspring – by Dmitry Fedotov

Locked

Lesson 6.9

Switch from Handspring to Elbow Plank – by Dmitry Fedotov

Locked

Mark Buhantsov

Lesson 7.1

Awesome Combo – by Mark Buhantsov

Locked

Lesson 7.2

Dynamic Entree to the Shoulder Mount – by Mark Buhantsov

Locked

Lesson 7.3

From a Peter Pan To the Peter Pan – by Mark Buhantsov

Locked

Lesson 7.4

From the Floor to the Elbow Stand – by Mark Buhantsov

Locked

Lesson 7.5

Original Forearm Planche – by Mark Buhantsov

Locked

Lesson 7.6

Pole Combo – by Mark Buhantsov

Locked

Lesson 7.7

Starfish – by Mark Buhantsov

Locked

Lesson 7.8

Three-Part Pole Combo – by Mark Buhantsov

Locked

Vladimir Karachunov

Lesson 8.1

Cartwheel Back Flip – by Vladimir Karachunov

Locked

Lesson 8.2

Chinese Pole Climbing – by Vladimir Karachunov

Locked

Lesson 8.3

Dynamic Combo – by Vladimir Karachunov

Locked

Lesson 8.4

Elbow Hook Planche On The Floor – by Vladimir Karachunov

Locked

Lesson 8.5

Full Moon – by Vladimir Karachunov

Locked

Lesson 8.6

One Hand Back Cartwheel – by Vladimir Karachunov

Locked

Lesson 8.7

Original Climbing On The Pole – by Vladimir Karachunov

Locked

Lesson 8.8

Shoulder Mount Planche – by Vladimir Karachunov

Locked

Lesson 8.9

The Windmill (Aerial Fan Kick) – by Vladimir Karachunov

Locked

Lesson 8.10

Valdez Aka Back Walk Over – by Vladimir Karachunov

Locked

Timber Brown

Lesson 9.1

Circle Climb – by Timber Brown

Locked

Lesson 9.2

Circle in Circle Climb – by Timber Brown

Locked

Lesson 9.3

Clockwork – by Timber Brown

Locked

Lesson 9.4

Shoulder Hop – by Timber Brown

Locked

Lesson 9.5

Sit Spin – by Timber Brown

Locked

Davide Lacagnina

Lesson 10.1

Back, Shoulders, Straddle, Flexibility Exercise by Davide Lacagnina

Locked

Lesson 10.2

Back Flexibility Exercise with a Partner by Davide Lacagnina

Locked

Lesson 10.3

Back Flexibility Exercise with a Partner 2 by Davide Lacagnina

Locked

Lesson 10.4

Front Split Stretching Exercise With A Partner by Davide Lacagnina

Locked

Lesson 10.5

Front Split Stretching Exercise With A Partner 2 by Davide Lacagnina

Locked

Lesson 10.6

Front Split Stretching Exercise With A Partner 3 by Davide Lacagnina

Locked

Lesson 10.7

Middle Split Stretching Exercise With A Partner by Davide Lacagnina

Locked

Lesson 10.8

Middle Split Stretching Exercise With A Partner 2 by Davide Lacagnina

Locked

Lesson 10.9

Middle Split Stretching Exercise With A Partner 3 by Davide Lacagnina

Locked
То SORT LESSONS select:
By Instructor:
evgeny greshilov, vladimir karachunov, slava ruza, kenneth kao, dmitry fedotov, timber brown, davide lacagnina, magnus labbe
OR
By Genre:
flexibility, strength, static pole, spinning pole, drop, climb, acrobatics, spins, transition, handspring, handstand, floor work, choreography, deadlift, combo, elbow, regrip, extreme, twisted grip, invert, flip, dynamic, choreo

Evgeny Greshilov

This world-famous athlete has changed perception of male pole dancing. He is a legend!

Lesson 1.1

Aerial Split – by Evgeny Greshilov

Locked

Lesson 1.2

Aerial Transition – by Evgeny Greshilov

Locked

Lesson 1.3

Back Flip From Shoulder Mount – by Evgeny Greshilov

Locked

Lesson 1.4

Backward Somersault – by Evgeny Greshilov

Locked

Lesson 1.5

Basic Skyline On The Floor – by Evgeny Greshilov

Locked

Lesson 1.6

Deadlift To One Arm Handstand – by Evgeny Greshilov

Locked

Lesson 1.7

Double Dead Lift – by Evgeny Greshilov

Locked

Lesson 1.8

Drop From Shoulder Mount Split – by Evgeny Greshilov

Locked

Lesson 1.9

Elbow Grip Full Moon – by Evgeny Greshilov

Locked

Lesson 1.10

Entree To Shoulder Mount Split – by Evgeny Greshilov

Locked

Lesson 1.11

From The Floor To The Elbow – by Evgeny Greshilov

Locked

Lesson 1.12

Front Flip To Shoulder Mount – by Evgeny Greshilov

Locked

Lesson 1.13

Front Somersault – by Evgeny Greshilov

Locked

Lesson 1.14

Grand Jete Spin – by Evgeny Greshilov

Locked

Lesson 1.15

Inverted T- by Evgeny Greshilov

Locked

Lesson 1.16

Jump To Sit – by Evgeny Greshilov

Locked

Lesson 1.17

Jump To Under Arm – by Evgeny Greshilov

Locked

Lesson 1.18

Low Angle Cupid – by Evgeny Greshilov

Locked

Lesson 1.19

Male Titanic – by Evgeny Greshilov

Locked

Lesson 1.20

No Handed Sailboat – by Evgeny Greshilov

Locked

Lesson 1.21

One Arm HandStand – by Evgeny Greshilov

Locked

Lesson 1.22

One Elbow Stand – by Evgeny Greshilov

Locked

Lesson 1.23

Screw In Regular Grip – by Evgeny Greshilov

Locked

Lesson 1.24

Screw In Twisted Grip – by Evgeny Greshilov

Locked

Lesson 1.25

Shoulder Mount To Handspring – by Evgeny Greshilov

Locked

Lesson 1.26

Slow Front Walk Over – by Evgeny Greshilov

Locked

Lesson 1.27

Table Top Variation – by Evgeny Greshilov

Locked

Lesson 1.28

The Fonji – by Evgeny Greshilov

Locked

Lesson 1.29

The Roundabout – by Evgeny Greshilov

Locked

Lesson 1.30

The Sailboat – by Evgeny Greshilov

Locked

Lesson 1.31

The Thinker – by Evgeny Greshilov

Locked

Lesson 1.32

Thinker Variation – by Evgeny Greshilov

Locked

Dimitry Politov

Unique pole dancing style - impossible to beat, performance in forget-me-not coloured pants!

Lesson 2.1

Advanced Fonji – by Dimitry Politov

Locked

Lesson 2.2

Baby Split – by Dimitry Politov

Locked

Lesson 2.3

Back Over – by Dimitry Politov

Locked

Lesson 2.4

Basics Of Full Moon – by Dimitry Politov

Locked

Lesson 2.5

Cupid Climb – by Dimitry Politov

Locked

Lesson 2.6

Cupid Go Down To Cupid – by Dimitry Politov

Locked

Lesson 2.7

Cupid Jump In – by Dimitry Politov

Locked

Lesson 2.8

Dismount Kick – by Dimitry Politov

Locked

Lesson 2.9

Elbow Roll – by Dimitry Politov

Locked

Lesson 2.10

Hidden Hand Skyline – by Dimitry Politov

Locked

Lesson 2.11

One Handed Aerial Cartwheel – by Dimitry Politov

Locked

Lesson 2.12

Pole Screw – by Dimitry Politov

Locked

Lesson 2.13

Red Pants Split – by Dimitry Politov

Locked

Lesson 2.14

The Cupid – by Dimitry Politov

Locked

Lesson 2.15

Cupid Jump In – by Dimitry Politov

Locked

Lesson 2.16

Tick-Tack Flip – by Dimitry Politov

Locked

Lesson 2.17

Tree Split – by Dimitry Politov

Locked

Kenneth Kao

Ninja on the Pole - man of the most diverse set of skills!

Lesson 3.1

Advanced Orbitor – by Kenneth Kao

Locked

Lesson 3.2

Casting – by Kenneth Kao

Locked

Lesson 3.3

Increase Casting – by Kenneth Kao

Locked

Lesson 3.4

Orbitor – by Kenneth Kao

Locked

Lesson 3.5

Pole to Pole Jump. All together – by Kenneth Kao

Locked

Lesson 3.6

Pole to Pole Jump. How to Catch – by Kenneth Kao

Locked

Lesson 3.7

Pole to Pole Jump. The Beginning – by Kenneth Kao

Locked

Lesson 3.8

Reverse Fan Kick – by Kenneth Kao

Locked

Lesson 3.9

Reverse Fan Kick. Variation – by Kenneth Kao

Locked

Lesson 3.10

Shoulder Element – by Kenneth Kao

Locked

Slava Ruza

Contemporary classic on the pole - no one can do it better than him!

Lesson 4.1

A Beautiful Spin – by Slava Ruza

Locked

Lesson 4.2

A Dynamic Spin – by Slava Ruza

Locked

Lesson 4.3

Aerial Phoenix – by Slava Ruza

Locked

Lesson 4.4

Capacity Of The Cupid – by Slava Ruza

Locked

Lesson 4.5

Combo On The Spinning Pole – by Slava Ruza

Locked

Lesson 4.6

Easy Original Spin – by Slava Ruza

Locked

Lesson 4.7

Flow On The Static Pole – by Slava Ruza

Locked

Lesson 4.8

Low Spin Into Elbow Stand – by Slava Ruza

Locked

Lesson 4.9

Low Spin Into Inverted Straddle – by Slava Ruza

Locked

Lesson 4.10

One Leg Hug Spin – by Slava Ruza

Locked

Lesson 4.11

Original Grip Spin – by Slava Ruza

Locked

Lesson 4.12

Power Of Armpit Grip – by Slava Ruza

Locked

Lesson 4.13

Praying Spin – by Slava Ruza

Locked

Lesson 4.14

Regrip Dynamic Spin Into Forearm Grip – by Slava Ruza

Locked

Lesson 4.15

Spinning Flow On The Static Pole – by Slava Ruza

Locked

Lesson 4.16

Very Dynamic Spin – by Slava Ruza

Locked

Magnus Labbe

Lesson 5.1

A Little Flow Into A Handstand – by Magnus Labbe

Locked

Lesson 5.2

A Little Static Rotation by Magnus Labbe

Locked

Lesson 5.3

Butterfly Jump Into A Knee Hook by Magnus Labbe

Locked

Lesson 5.4

Elite Split by Magnus Labbe

Locked

Lesson 5.5

From The Sit To A Handspring by Magnus Labbe

Locked

Lesson 5.6

From The Sit To A Handspring by Magnus Labbe

Locked

Lesson 5.7

Handstand Transition Into a Sit by Magnus Labbe

Locked

Lesson 5.8

Jump Flow With The Pole by Magnus Labbe

Locked

Lesson 5.9

Low Flow And Floorwork by Magnus Labbe

Locked

Lesson 5.10

Shoulder Stand Transition On The Floor by Magnus Labbe

Locked

Lesson 5.11

Side Climb Into A Sit by Magnus Labbe

Locked

Lesson 5.12

Static Rotation Into A Sit On The Pole by Magnus Labbe

Locked

Dmitry Fedotov

Lesson 6.1

Cartwheel in Handspring Position – by Dmitry Fedotov

Locked

Lesson 6.2

Dead Way – by Dmitry Fedotov

Locked

Lesson 6.3

Double Fly By – by Dmitry Fedotov

Locked

Lesson 6.4

Drop from Handspring to Elbow Plank – by Dmitry Fedotov

Locked

Lesson 6.5

Fly By – by Dmitry Fedotov

Locked

Lesson 6.6

Jump from Shoulder Mount to Handstand – by Dmitry Fedotov

Locked

Lesson 6.7

Jump to Shoulder Mount – by Dmitry Fedotov

Locked

Lesson 6.8

Switch from Elbow Plank to Handspring – by Dmitry Fedotov

Locked

Lesson 6.9

Switch from Handspring to Elbow Plank – by Dmitry Fedotov

Locked

Mark Buhantsov

Lesson 7.1

Awesome Combo – by Mark Buhantsov

Locked

Lesson 7.2

Dynamic Entree to the Shoulder Mount – by Mark Buhantsov

Locked

Lesson 7.3

From a Peter Pan To the Peter Pan – by Mark Buhantsov

Locked

Lesson 7.4

From the Floor to the Elbow Stand – by Mark Buhantsov

Locked

Lesson 7.5

Original Forearm Planche – by Mark Buhantsov

Locked

Lesson 7.6

Pole Combo – by Mark Buhantsov

Locked

Lesson 7.7

Starfish – by Mark Buhantsov

Locked

Lesson 7.8

Three-Part Pole Combo – by Mark Buhantsov

Locked

Vladimir Karachunov

Lesson 8.1

Cartwheel Back Flip – by Vladimir Karachunov

Locked

Lesson 8.2

Chinese Pole Climbing – by Vladimir Karachunov

Locked

Lesson 8.3

Dynamic Combo – by Vladimir Karachunov

Locked

Lesson 8.4

Elbow Hook Planche On The Floor – by Vladimir Karachunov

Locked

Lesson 8.5

Full Moon – by Vladimir Karachunov

Locked

Lesson 8.6

One Hand Back Cartwheel – by Vladimir Karachunov

Locked

Lesson 8.7

Original Climbing On The Pole – by Vladimir Karachunov

Locked

Lesson 8.8

Shoulder Mount Planche – by Vladimir Karachunov

Locked

Lesson 8.9

The Windmill (Aerial Fan Kick) – by Vladimir Karachunov

Locked

Lesson 8.10

Valdez Aka Back Walk Over – by Vladimir Karachunov

Locked

Timber Brown

Lesson 9.1

Circle Climb – by Timber Brown

Locked

Lesson 9.2

Circle in Circle Climb – by Timber Brown

Locked

Lesson 9.3

Clockwork – by Timber Brown

Locked

Lesson 9.4

Shoulder Hop – by Timber Brown

Locked

Lesson 9.5

Sit Spin – by Timber Brown

Locked

Davide Lacagnina

Lesson 10.1

Back, Shoulders, Straddle, Flexibility Exercise by Davide Lacagnina

Locked

Lesson 10.2

Back Flexibility Exercise with a Partner by Davide Lacagnina

Locked

Lesson 10.3

Back Flexibility Exercise with a Partner 2 by Davide Lacagnina

Locked

Lesson 10.4

Front Split Stretching Exercise With A Partner by Davide Lacagnina

Locked

Lesson 10.5

Front Split Stretching Exercise With A Partner 2 by Davide Lacagnina

Locked

Lesson 10.6

Front Split Stretching Exercise With A Partner 3 by Davide Lacagnina

Locked

Lesson 10.7

Middle Split Stretching Exercise With A Partner by Davide Lacagnina

Locked

Lesson 10.8

Middle Split Stretching Exercise With A Partner 2 by Davide Lacagnina

Locked

Lesson 10.9

Middle Split Stretching Exercise With A Partner 3 by Davide Lacagnina

Locked
World best male pole dance athletes: