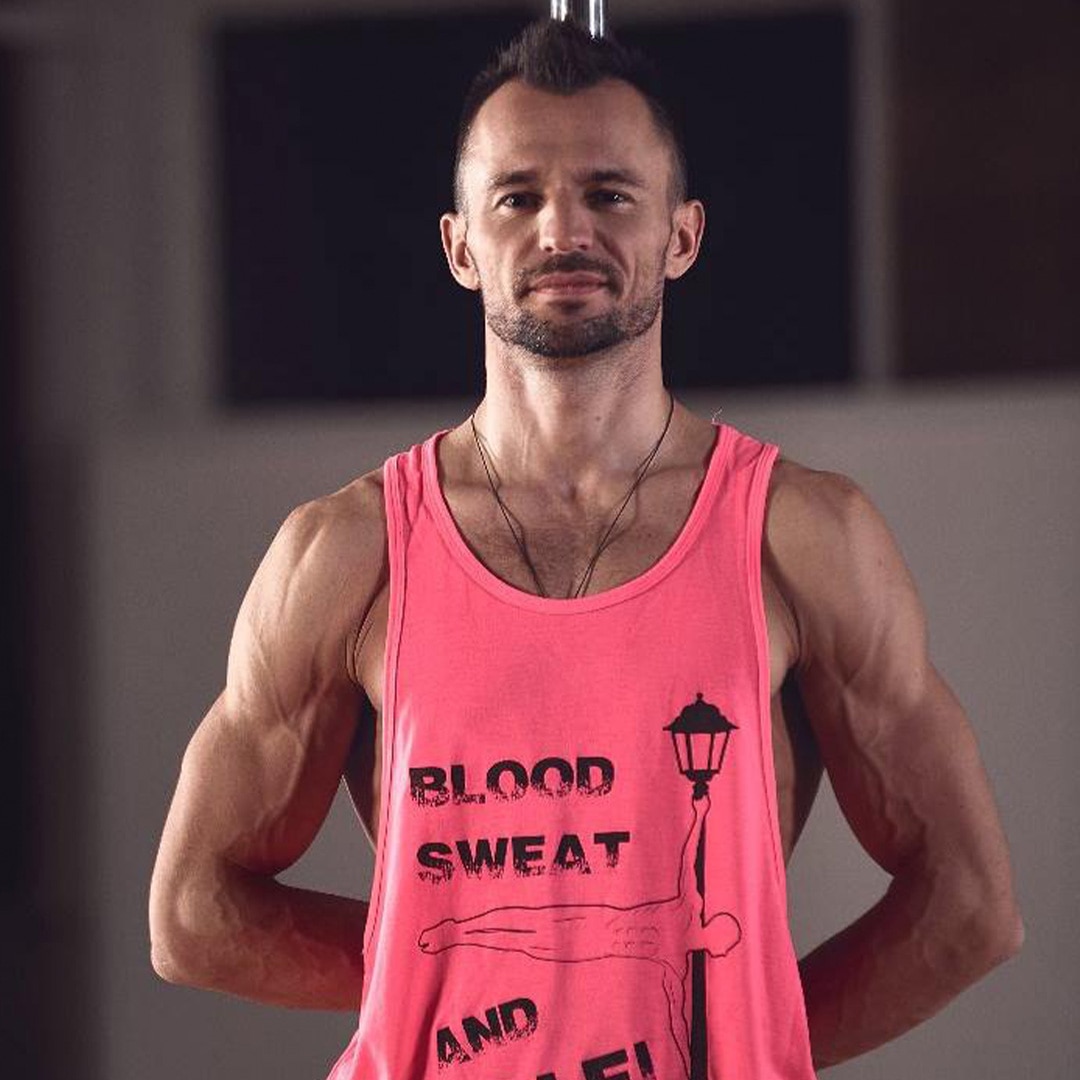 Lessons by Evgeny Greshilov
OpenDance Academy is delighted to present amazing lessons by Evgeny Greshilov!
Evgeny Greshilov ONLINE lessons featured at our POLE DANCE PLATINUM COURSE
Profile
This world-famous athlete has changed perception of male pole dancing.
Evgeny Greshilov was born on the 11th of January, 1981 in a small town in Siberia, Russia. First steps in sport industry he started in 6 years old.
He took his first steps in the fitness industry at 6 years old, when he started with professional dancing. At this young age he also took part in his first competitions. Martial Arts, Dramatic Studio and Circus Studio were just some of the things he participated in as he was growing up.
After graduating high school at age 17, he moved to Moscow to attend the State College of Circus and Variety Arts. He was alone in a huge city more than 5500 km from home, but it didn't stop him. After he successfully graduated from there in 2002, he took part in different circus shows around the world as an aerial performer. Among the places he has performed are The Great Moscow Circus in Moscow in 2006, Shangri La – 3 in Japan in 2007, and Balagan in Spain in 2011.
He started studying at the Moscow State University Arts and Culture as a choreographer and graduated from there with his diploma in 2008. While studying, he also worked for three years as a dancer with a famous Russian pop-singer. He started his career as a choreographer since in 2006. During this time he created many shows for dance and circus events. With Evgeny's choreography, Anastasia Skukhtorova won the 2 World Pole Cup in Rio de Janeiro in 2013.
In 2010 he started his career as a Pole Athlete when he decided to see how he would do in the Russian Pole Cup. That was a success, and he became a triple Russian champion in less than one year. In the spring of 2011, Evgeny went to Bern, Switzerland to participate in the Aerial Pole International, where he won in the male category. That was his first International victory. In October of 2011, he achieved the title of World Champion at the World Pole Sport & Fitness Championship in Budapest, Hungary and became the first Male World Pole Champion in history.
He also received special awards for "Best Tricks" and "Best Entertainer."
He again won the title of World Pole Champion in London, at the World Pole Sport Championship, in 2012.
He became the First Runner-Up at Pole Art 2012 in Stockholm, Sweden.
His last achievement was winner in the male category at Pole Art 2013, in Helsinki, Finland, one of the most prestigious competitions in the world.
Evgeny is currently traveling around the world, doing workshops, showcases and judging competitions.
ACHIEVEMENTS
Three-Time World Pole Dance Champion.
6-Time International Pole Champion.
Ultimate Champion IPC 2015, double division, Hong-Kong 2015.
1st place – "3 World Pole Cup" at "Arnold Classic 2014", Rio de Janeiro, Brazil
1st place – "Pole Art 2013", Helsinki, Finland
The "I Love Pole" Award at The 1-st Annual PWN Awards, Los Angeles, USA, 2014
1st place – "World Pole Sport Championship", London, 2012
1st place – "World Pole Sport & Fitness Championship", Budapest, Hungary, 2011
"Best Entertainer Award" & "Best Pole Tricks Award", at the "World Pole Sport & Fitness Championship", Budapest, Hungary, 2011
1st place – "Aerial Pole International", Bern, Switzerland, 2011
1-st runner up "Pole Art 2012", Stockholm, Sweden
1-st place "2 CUP ARDO" Moscow, Russia, 2010
1-st place "Golden Pole" Krasnodar, Russia, 2010
1-st place "Russian Pole Dance and Fitness Competition" Moscow, Russia, 2010
Judge experience:
Pole Art Cyprus, Larnaka 2015
Pole Art Spain, Palma 2015
Pole Art Polland, Gdansk 2015
Open Pole Sport Iceland, Reykjavik 2015
Pole Art Italy, Milan 2015
"Miss Pole Dance South Africa 2013", Johannesburg, South Africa
"Pole Stars 2013", Brno, Czech Republic
"Copenhagen Pole Competition 2013", Copenhagen, Denmark
"Miss & Mister Pole Dance Kyrgyzstan 2013", Bishkek, Kyrgyzstan
" 2 World Pole Cup 2012″, Rio de Janeiro, Brazil
"Miss Pole Fitness Switzerland 2012", Zurich, Switzerland
"Pole Fitness Hungarian Open 2012", Budapest, Hungary
"Miss Pole Dance Kazakhstan 2012", Almati, Kazakhstan
"ARDO 2012" Moscow, Russia
"Ukrainian Battle on the Pole 2012", Lugansk, Ukraine.