Our affiliate program is easy to understand, easy to use, and is an excellent way to earn an income. As you refer customers to OpenDance Academy, we pay you a monthly commission for all customers who purchased any course at OpenDance Academy.
Complete the registration and receive the unique code and your link.
To complete your registration please complete the registration form below.
AFFILIATE PROMO CODE
After your registration you will receive the affiliate promo code. The affiliate promo code will provide customers you refer with 10% off from any course at OpenDance Academy. Use the promo code in your posts in social media, blogs, newsletters, on your website, at your masterclass and at your studio. We have the step by step guide on our website how to use the code.
When a visitor makes a purchase using your code at OpenDance Academy, you will earn a 20% commission from the course price. That is approximately $60 per Platinum Course!
Please find a great example of the post with Promo Code from Olga Trifonova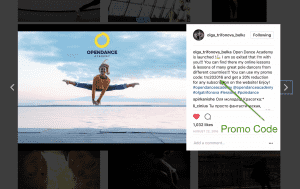 AFFILIATE LINK
As well, you will receive your special affiliate link
(it will look like this: https://www.opendance.academy/yourusername). The affiliate link itself does not provide a discount, what is does it just takes visitors to OpenDance Academy website. This link will allow us to track customers referred to OpenDance Academy by you. It means that we will know that visitor is coming from you and you will earn the commission once visitor buys the course.
We recommend that you add brief information about OpenDance Academy and OpenDance Academy logo with your affiliate link to your personal or studio website and every time when visitor will click on the link, visit OpenDance Academy website and make a purchase you will earn 20% commission.
Another great way to use the link is to add it to your Instagram account, look at Kira Noire example: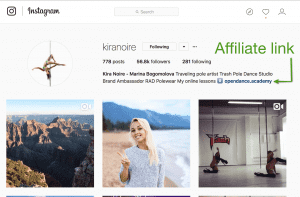 Or Evgeny Greshilov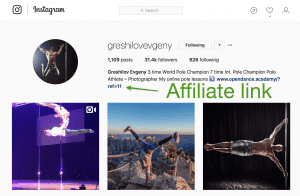 You are welcome to use our promotional material, please download images, banners and videos here: Promotional Material OpenDance Academy
Please feel free to send email to our team if you require any additional promotional material or anything specific for your posts, we will be happy to assist you.
Once again, to complete your registration you will receive log in details for your account, you can log in to check your referrals, commission balance and activity at any time. We send commission payments every month via paypal.
Please contact us should you have any questions, or if you want us to register you (we understand how busy you are and can do it for you)
Kind Regards,
OpenDance Academy Team